British company bet365.com is one of the premier online sports betting sites with a stellar reputation and massive, global customer base. The bet365 mobile app for sports offers tons of betting options across a wide spectrum of global sporting events.
Open a new account and receive a 100% deposit match bonus for up to £200 in free bets.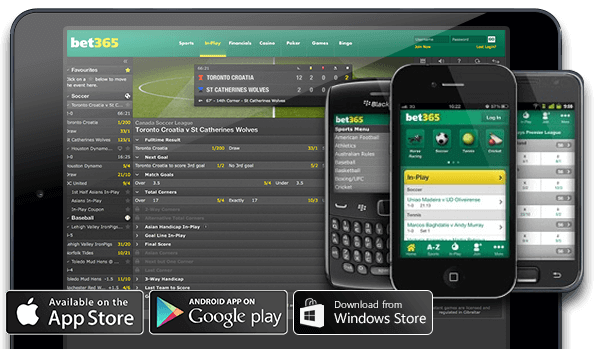 Receive the £200 welcome bonus and play it on bet365 Mobile.
Register Your New Bet365 Account
Bet365 has a mobile app available for Android, Apple iOS, and Windows Phone platforms. The iOS version offers full compatibility with the iPad and iPhone, and the Android app works on both Android smartphones and tablets. The app provides access to the full range of bet365.com markets and features, including live streaming and audio.
To get started, you must first register your new bet365.com account. Click here to visit mobile.bet365.com or scan the bet365 QR code below.
The are 5 steps when filling out the registration form. Be sure to enter your accurate personal information because your contact number, address, and email will be validated. Bet365 is safe and secure, and will not share any of your personal information.
On the 5th step of the registration, be sure to enter our exclusive bet365 bonus code CBC365 to ensure your new bet365 account qualifies for all the top bonuses and promotions offered. The bet365 bonus code CBC365 should automatically populate in the Bonus Code field, but if it does not, you may key it in.
Entering the bet365 bonus code CBC365 awards all new customers a 100% deposit bonus for up to £200 in free bets. There is a 3x wagering requirement on the sum of the deposit and bonus amounts before you may withdraw the bonus money and any winnings associated with playing the bonus money.
Bet365 Mobile App Compatibility
The bet365 mobile app is supported on Apple iOS devices running iOS version 6.0 or higher, Android devices running Android 4.0+, and all Windows Phone devices!
Any other mobile device can access the bet365 mobile website, located at http://mobile.bet365.com.
Download the bet365 Mobile App
Ok, now that we have created a valid bet365 account, we can download the appropriate app for our mobile device. Visit bet365.com from your mobile device and scroll to the bottom of the page.
Find the View all bet365 apps link and click the link. See the green bar below:
You will then be directed to a page showing the compatible downloadable apps for your mobile device. On my iPhone, I see the available bet365 apps compatible with iPhone.
Selecting the bet365 Sports iOS app will take you to the Apple App Store where you can download the free bet65 app. Bet365 offers an iPhone app and an iPad app. The app is 11.9 MB and supports 18 languages.
Make a Deposit
You can make your deposit from within the app. After logging in, click on your username located at the top right corner of the app, and then visit the Deposit menu. Click on Payment Method box to select the deposit method of your choice – popular payment methods include credit and debit card, and e-wallets such as Neteller, Skrill, and Paypal. Payment methods available depend on your jurisdiction, but all the deposit methods are free of any fees or charges. To make things simple, bet365 operates a one-wallet system which means you can use the same account for all of bet365's products.
Bet365 Sports Deposit Bonus
Bet365 Sports offers a 100% initial deposit bonus up to £200, which is pretty effortless to earn and use, but there are minor details which we'll get into.
When new customers open a bet365.com account and make their initial deposit, bet365 Sports will award them a 100% match on their deposit for a bonus up to £200. The minimum deposit for this bonus is £10. We recommend that new customers try to deposit £200 to maximize the £200 bonus. Before you can wager the bonus money, however, you must first meet the 1x wagering requirements.
First off, once you've registered your new account, bet365 will issue you a 10 digit Offer Code ending in "NCDB2", via email. To claim the 100% deposit bonus, first make your qualifying deposit (any deposit over £10, but you should try to deposit £200), then go to the "Members" section, then the Enter Offer Code page, and type in the Offer Code you previously received in your email.
If you deposited £200, you must first wager a total of £200 before you have access to your bonus cash. Put simply, in order to play with the bonus cash, you must first wager the equivalent of your deposited amount, in this example £200. Your wagers can be small or large, but must total £200 before you can access the bonus money.
So, let's say we have bet £200 on some sporting events and now have access to our £200 bonus. You can bet with the bonus money, but you may not withdraw it. You are required to rollover your deposit and bonus 3 times before you can pull cash out, so in this case you must bet (£200 + £200) * 3 = £1,200 all together before making any withdrawals.
This is pretty easy to do, but there are a few more conditions.

You can place wagers on these events, but they do not fulfill the 3x (or £1,200) condition.
Also, be aware that you can take advantage of multiple bet365 sports bonuses, such as the initial deposit bonus and the specific mobile free bet bonus, but only one bonus can be active at a time. In order to take advantage of another bonus, you must finish off any currently active bonus. This is important in the case of some bonuses, such as the mobile bonus, because customers will certainly want to clear the opening bonus first, before moving onto the mobile platform.
You can read more about this bet365 bonus code offer here.
Bet365 Sports Mobile App Review
The bet365 mobile app offers all the features you would expect – including the wide variety of markets and bets, In-Play bets, the Cash Out feature which allows you to cash out winning bets prior to the contest ending, push notifications, live streaming of sporting events, and full access to account management and cashier features.
The app will also show the latest bonuses and promotions available to you, including the new player welcome bonus of up to £200.
Bet365 Mobile App Basics
The homepage of the bet365 app will first show popular upcoming sporting events for the day, that have not yet begun. Below the upcoming events will be the Live In-Play events that are ongoing, any of which you can place an In-Play wager on.
You will also see all the Offers available to you. These are bonuses and promotions that you may participate in – which include the bet365 welcome bonus of £200, but also a specific mobile bonus which awards a 100% match on your first MOBILE bet, for up £50 free! We have more details on the mobile bonuses below.
Finding a specific sporting event in the mobile app is very easy. To browse all the sporting events available, click the A-Z button at the very top left corner of the app. This will open a menu of all the available sports which you can then click and drill down. If you don't see the sport you are looking for, you will find a "More Sports" option at the bottom for even more options.
When you find the sporting event and selection you would like to place a bet on, selecting your choice will add the bet to the Bet Slip. You can enter the bet amount in the Bet Slip, and also change the type of bet from Standard to Bankers, Teaser, or one of the other options. Then click Place Bet when you're ready! You can review all your bets by clicking the My Bets tab at the top of the app.
Live video streaming is one of the most popular features of the be365 mobile app. You can now watch live sport on your iPhone, iPad or Android device including Soccer, Tennis, Basketball, Snooker, Darts, Cricket and Squash. You simply need a funded bet365 account or to have placed a bet in the last 24 hours to qualify. To view the stream, log in and navigate to the sport homepage or In–Play service where a Watch icon tells you what is available.
Additionally, if you have an iPhone, iPad or Android device, you can watch all races shown live on At The Races and Racing UK.
You simply need to place a qualifying bet of at least $1 win or $0.50 each-way (or currency equivalent) on the race then click the Watch icon from either the bet slip, the racecard or from 'Watch Your Live Races'.
In order to receive the best picture quality you will need a strong 3G connection or a decent WiFi connection. Please note that At The Races streaming and Racing UK streaming is not available in all jurisdictions.
Bet365 Mobile Website
You do not need to download and install the bet365 app to access bet365 services from your mobile device. You can just as easily visit mobile.bet365.com with your mobile browser. The mobile app definitely has some improved functionality, but if you have a incompatible phone, the mobile site is a decent alternative.
1. To add the Bet365 mobile website to your mobile device, first register your new bet365 mobile account. Click here to register your account.
2. Next, open your mobile browser, and type in "mobile.bet365.com" in the address bar. In the case of an older iPhone or iPad, you could open the Safari browser.
3. For the iPhone or iPad, tap the

button found at the top of the Safari browser. Select the Add to Home Screen option as seen below: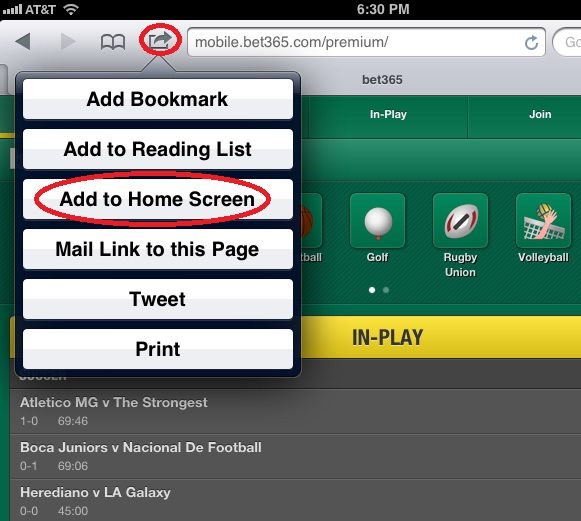 For other browsers and phones, find the similar function to bookmark the website and add it to your phone's homepage. You will now have direct access to the bet365 Mobile Sports site right at your fingertips!
EXPIRED – Bet365 Mobile Bonus
The Bet365 Mobile Bonus described below has now expired!
In addition to the standard bet365 Sports bonus described above, bet365 also gives all mobile sports bettors an additional 100% match bonus after making your first mobile bet. Place a bet between £1 and £50, and you will be eligible to receive a bonus matching that amount – a 100% match bonus for up to an additional £50!
After placing the qualifying mobile wager, navigate to the Members section from the Services menu, under Offers.
Select the offer and you will receive an email with the actual Offer Code that you can redeem in the Members area on the bet365 website. You will then receive your mobile bonus.
There is a 3x wagering requirement on the qualifying bet and bonus amount and you have 90 days to satisfy the wagering requirement.
This secondary bonus can be taken advantage of AFTER you've earned the initial deposit bet365 bonus.
Take advantage of both bonus offers with the bet365 Mobile Sports app – the 100% deposit bonus for up to £200 and the free bet for up to another £50!
Click here to visit bet365.com!
You can find more information on the bet365 free bet offer at http://bonuscodepromos.co.uk/bet365-bonus-code/
User Reviews
Have you tried this app? Let us know what you think!
Click here to submit your review.
---
---
Bet365
Bet365 Mobile App
Bet365 Sports Mobile App
SKU
Bet365 Mobile App
UPC
Bet365 Mobile App
Model
Bet365 Mobile App
bet365 App Review
Feb 10, 2016
by
Puntasaurus
I have the bet365 app on both my iphone and ipad and it is amazing. It is very intuitive and I was able to jump right in and place my bets, monitor my bets, and withdraw my money. It's great when I'm at the pub, I place a bet on whatever is on the telly. 5 stars!

---